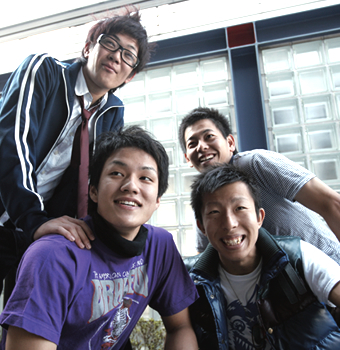 Students living away from home for the first time are often overwhelmed with excitement and anxiety. They worry if they will be able to make friends, or what will happen if they become sick. The Jikei Group of Colleges' exclusive student dormitories will help ease your concerns. Everything students need, from a desk and a bed to a refrigerator, is provided, and individual rooms assure privacy. In dormitories with a dormitory manager, students can feel secure even when they are sick. Students can choose a room where they feel easy and prepare their own meals or a room that provides cafeteria service.

Dormitory headquarters provides 24-hour support.
Student dormitories are located in areas convenient for commuting to school. The dormitories are managed using a 24 hour system, allowing complete support even in emergencies.

Students living alone for the first time can feel safe and secure.
Student dormitories are completely secure. Only students living in the dormitory can enter the building. In dormitories where students cook for themselves, a living advisor provides complete support, even caring for students when they are sick.

Students can make new friends easily.
There are plenty of opportunities for students to make friends at welcome parties and other events. Students from the Jikei Group of Colleges live in the dormitories, so you can receive encouragement and support from your friends.

Lower cost
Students living in the dormitories are not required to pay the service charges and fees normally associated with renting an apartment. You can contact us and have a look at the dorms anytime. Applying is easy. Just fill out the application form and send it off to us.

Fully furnished rooms
Rooms at the dormitories are fully equipped with a bath, toilet, kitchen, air conditioner, refrigerator, telephone, bed, desk, shoe shelf, and light fixtures. All you need to bring is your bedding and your personal effects.
Jikei Group Student Dormitories (We have 62 buildings from Fukuoka to Hokkaido with 3,506 rooms)