TSM and TSM Shibuya Sign Curriculum Transfer Agreement with Berklee College of Music
Berklee College of Music and Tokyo School of Music and Dance and its sister school Tokyo School of Music Shibuya held a signing ceremony on April 10 on the fourth floor of the Tokyo International Forum. As partner institutions, the schools will engage in a 2+2 transfer program via credit transfer. During the ceremony, the Ukifune Scholarship to study at Berklee College of Music was awarded to Mr. Yuki Kodama, who just graduated from Jikei Group school Koyo Conservatory of Music this spring. TSM and TSM Shibuya will begin recruiting students in earnest for the Study Abroad at Berklee Program and will welcome the first intake of students next spring.
The Jikei Group of Colleges signed a partnership agreement in April of last year with Berklee College of Music in Osaka. With the realization of this academic partnership between Berklee and TSM and TSM Shibuya, three Jikei schools have now partnered with Berklee based on that agreement, including Koyo Conservatory of Music in the city of Kobe. This agreement will make it possible for students at TSM and TSM Shibuya who have completed two years of study to transfer as third year students into Berklee College of Music. The 2+2 Double Degree Program, where students study for two years at Berklee, will enable students to obtain the requirements for graduating from Berklee.
The signing ceremony was attended by Assistant Professor Yoko Miwa from Berklee College of Music; Chairperson Kunihiko Ukifune and Executive Director Seigo Murakami from TSM and TSM Shibuya; and approximately 30 faculty members from the Jikei Group, including Mr. Mickey Yoshino and Mr. Shin Ikesue, both Berklee graduates. Also in attendance was former Columbia College Chicago President Dr. Warrick Carter, who previously served as dean of faculty and then as provost and vice president of academic affairs at Berklee College of Music. Mr. Hideo Watanabe, Executive Director of the Jikei Group International Affairs Office, acted as the master of ceremonies for the event.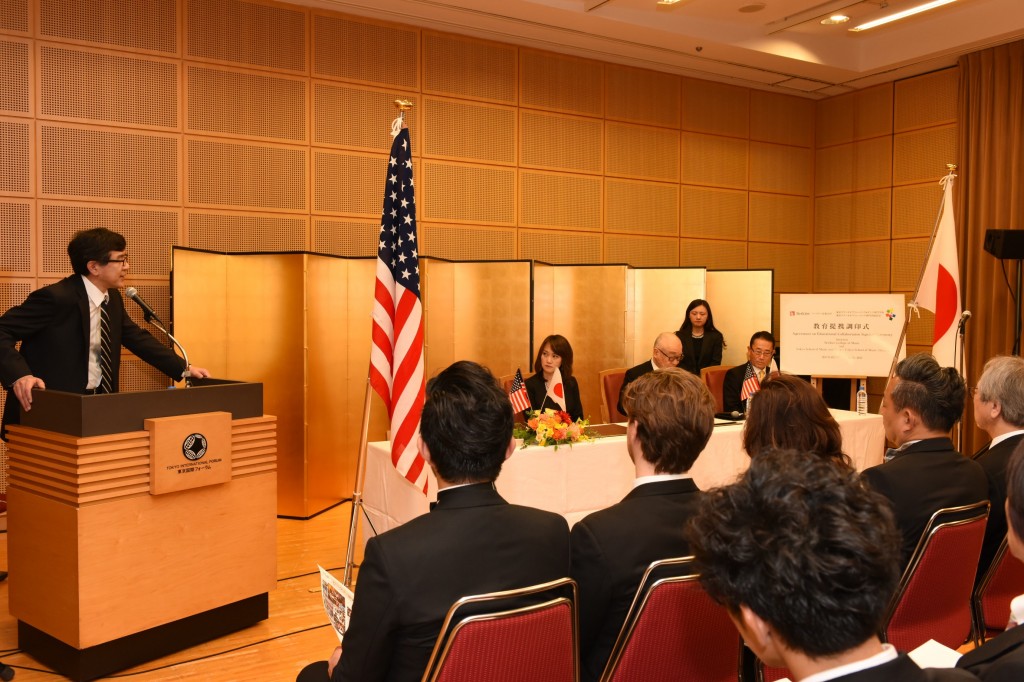 Chairperson Ukifune and Executive Director Murakami signed the agreement and gave the document to Assistant Professor Miwa.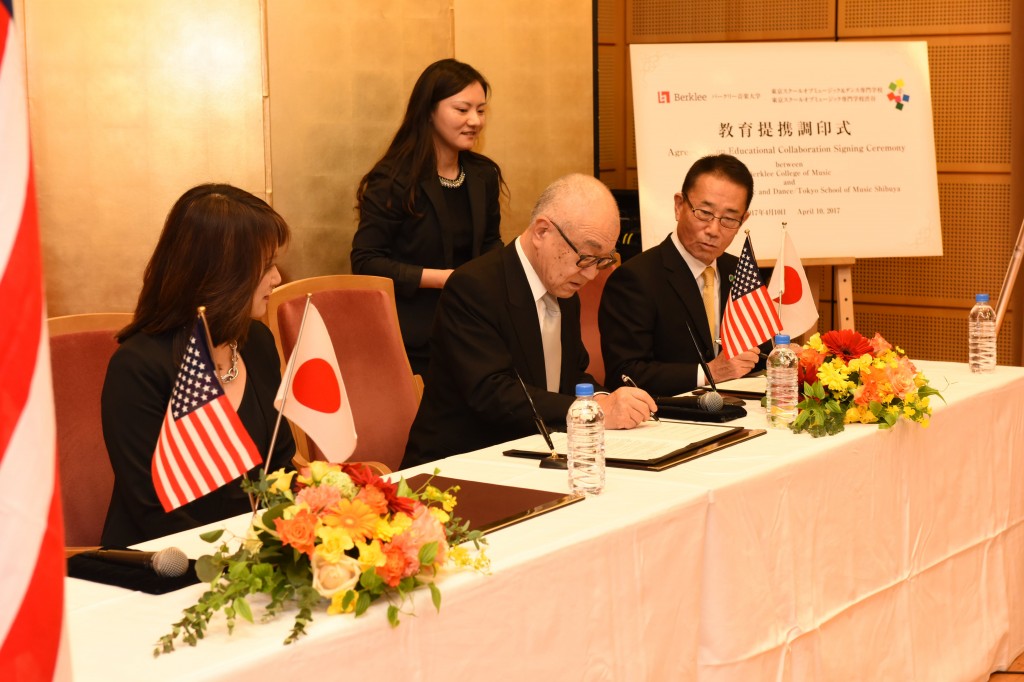 Assistant Professor Miwa traveled to the United States after graduating from Koyo Conservatory of Music and studied at Berklee College of Music. She is currently active as a pianist in the United States. At the same time, she teaches students as an assistant professor at Berklee College of Music.
Chairperson Ukifune's Speech
Once the signing ceremony was concluded, Chairperson Ukifune gave a commemorative speech.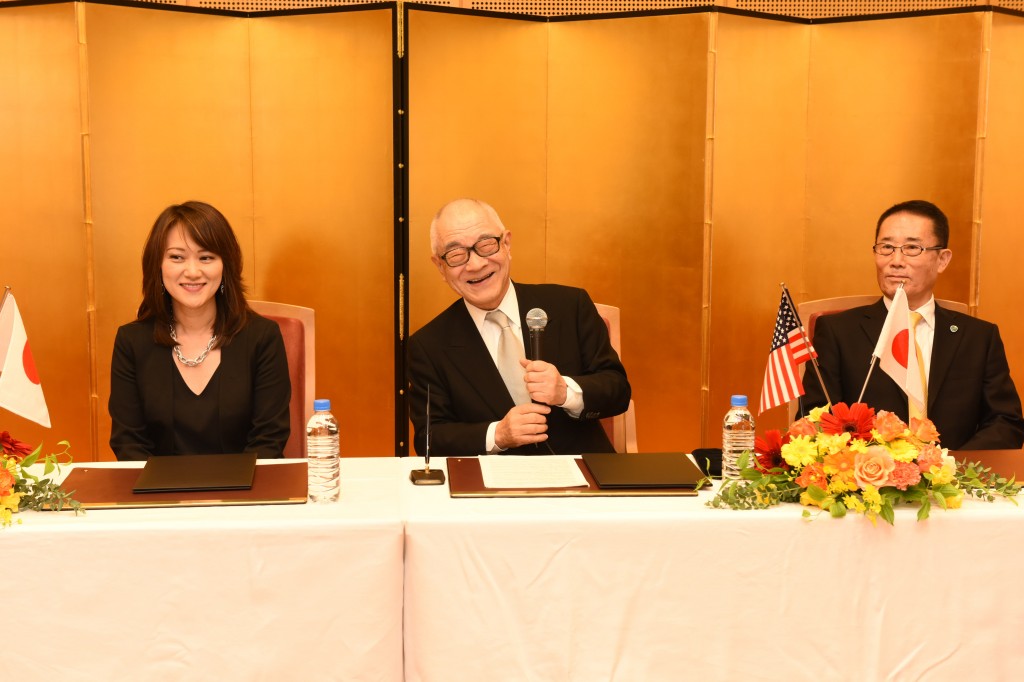 Chairperson Ukifune spoke about construction of the new campus in Kobe for Jikei Group college Koyo Conservatory of Music, which has enjoyed a long relationship with Berklee College of Music. He also said that the relationship is evolving with the partnership agreement just signed with TSM and TSM Shibuya to include the 2+2 Program. Chairperson Ukifune added that he would like the Jikei Group and Berklee to continue to collaborate so that the relationship can become even better in the future.
Ukifune Scholarship Awarded to Recent Koyo Conservatory of Music Graduate Mr. Yuki Kodama
Koyo College of Music Assistant Professor Miwa presented the Ukifune Scholarship to Mr. Yuki Kodama, who graduated from Koyo Conservatory of Music this past spring and will move to the United States in September in order to attend Berklee College of Music.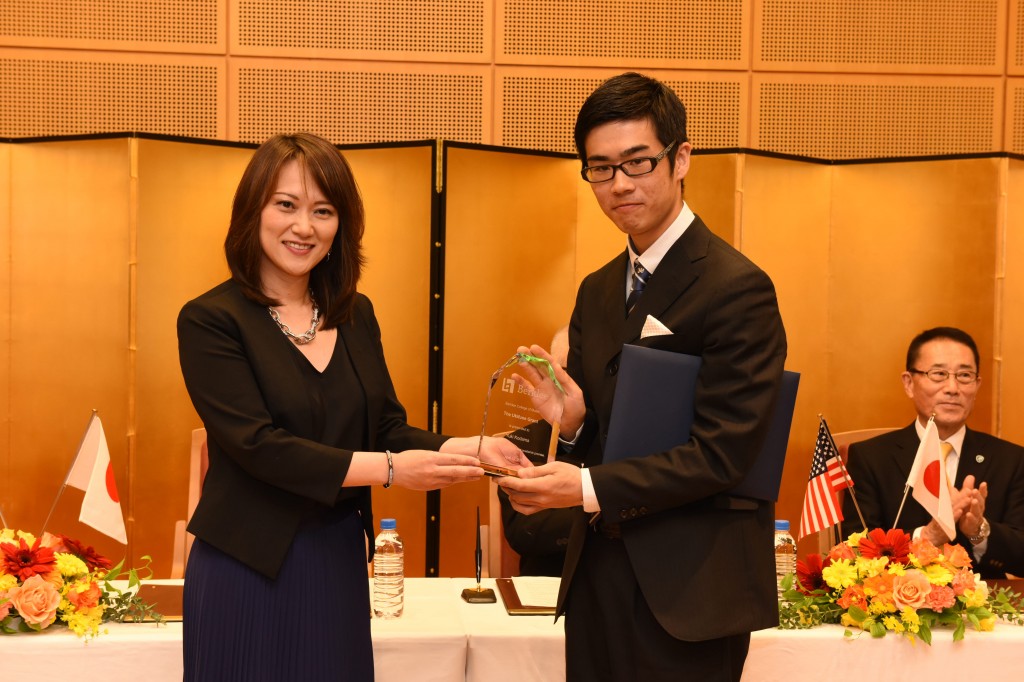 The Ukifune Scholarship was established jointly by Berklee College of Music and the Jikei Group of Colleges to commemorate the partnership agreement between the two institutions and covers tuition at Berklee for two years. Mr. Kodama became the second recipient of the scholarship following Mr. Masaaki Saito, the first recipient of the Ukifune Scholarship, who graduated from Koyo Conservatory of Music in April of last year.
Mr. Kodama was born in Osaka in 1996 and began playing the guitar in elementary school. He enrolled in Koyo Conservatory of Music after graduating from Kishiwada Osaka Prefectural High School. Mr. Kodama studied double bass in earnest under Mr. Hatsumi Kamiyamasaki. He secured a personal MVP award at a school audition and appeared alongside many top professional musicians as a member of the selected band at venues such as Billboard Live in Osaka and noted jazz club Mr. Kelly's.
Berklee Assistant Professor Yoko Miwa gave Mr. Kodama a certificate for the scholarship along with a commemorative gift and offered these words of congratulations: "I think that, right now, half of you is filled with anxiety while the other is filled with dreams. If you have grand dreams, believe in yourself, and believe in yourself, then someone will notice you without fail. That is what I believed and I continued to do my best. I myself still have a ways to go, but I want you to have big dreams and work toward your dream one step at a time.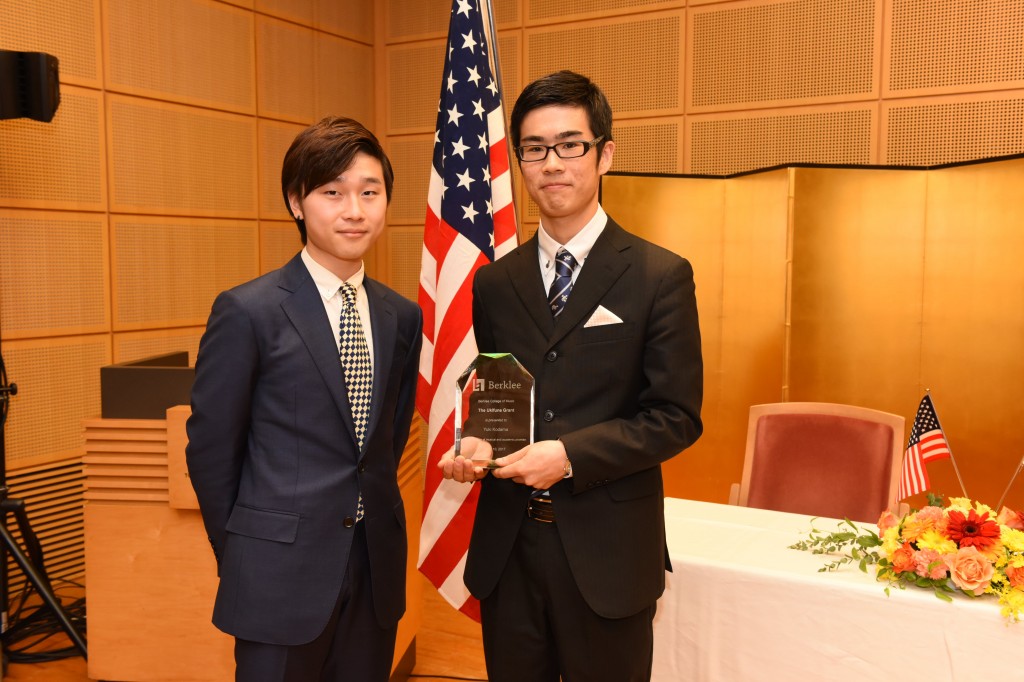 Mr. Masaaki Saito, last year's Ukifune Scholarship recipient, was present in the event hall. He shook Mr. Saito's hand and said, "We're both bassists, so let's work hard, share information, and do our best!"
At the end of the ceremony, Mr. Kodama said, "I'm grateful to receive this wonderful scholarship. I've been studying all this time in order to attend Berklee College of Music, so I was ecstatic when I learned that I had been chosen for the award. I am proud to accept the Ukifune Scholarship, and I will study diligently at Berklee!" Everyone in attendance gave Mr. Saito a round of congratulatory applause.