Tokyo Belle epoque College of Beauty collaboration with Miss Earth Japan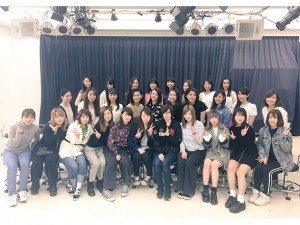 On April 2, contestants and event organizers for the 2018 Miss Earth Japan Saitama Competition visited Tokyo Belle epoque College of Beauty in Edogawa Ward in Tokyo. Miss Earth is one of the big four international beauty pageants. Through a partnership between Tokyo Belle epoque College of Beauty and Miss Earth Japan, the school held a beauty training lecture with Miss World contestants where students from the Hair and Makeup Department did the hair and makeup of actual contest participants.
The event began with a lecture on makeup techniques from Miwa Otani, an instructor at the school. Makeup will differ depending on the client's skin quality or tone, the clothes worn that day, and the hair style. The contestants took their studies very seriously.
Afterward, the students provided hair and makeup counseling for the contestants, who wanted to know what hair or makeup styles would best make them shine. The students and contestants were all smiles as they talked and considered the best styles.
This autumn marks the 18th edition of Miss Earth Japan, a beauty contest dedicated to protecting the beautiful environment of the earth. Everyone at the school was thrilled to be involved with this kind of pageant and the students committed themselves 100% to the project. The students grow day by day as they accumulate experience after experience such as this. Tokyo Belle epoque College of Beauty will provide full support for Miss Earth Japan.