Students from Tokyo Wedding College Welcome Students from the University of West Florida Participating in 2019 Semester in Japan Program.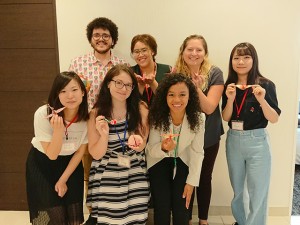 The International Hotel Department at Tokyo Wedding College (TWC) hosted a cultural exchange event on June 27 for the five students from the University of West Florida participating in the Semester in Japan program.
The purpose of the event was to give the students of the department a chance to interact with students from another country and polish their English Communication skills, one of the core elements of the program.
The Semester in Japan program is an annual program that provides students from the UWF with the opportunity to learn about Japanese culture while promoting cultural exchange and deepening mutual understanding between students and faculty members of the UWF and the Jikei Group of Colleges.
In order to welcome and entertain the guests from the UWF, TWC considered Japanese-themed arrangements that included table decorations, the food, and souvenirs and began making preparations two weeks ahead of the event.
The school chose gy?don (beef bowl), which is popular among visitors to Japan, as the main dish and selected appropriate Japanese side dishes. For beverages, they prepared green tea and lemonade, which is an essential drink for Japanese summer festivals.
Coca Cola, a drink from the students' home country of the United States, was also made available, so that students could enjoy the meal without worry if they couldn't drink green tea or lemonade.
The decorations for the table envisioned a Japanese style. Red and black were the predominant colors while the napkins were folded into origami cranes to give it a more Japanese feel.
TWC students put the drink and table service skills that they have been learning each day to use and showed their guests their warm hospitality.
At the end of the meal, students from TWC gave each of the overseas guests a souvenir while sharing their feelings about the day's experience, closing the gap between the students from the two countries.
Reflecting on this year's Semester in Japan program, the students from TWC had the following to say about what they thought about the program:
- "Communicating with visitors from another country was very difficult, but I was happy when they understood my English."
- "I thought that thinking about guests at the planning stage and making arrangement is very important."
- "I was able to discover the challenges in my efforts toward English and hospitality."
- "This year's program has inspired me to strive to become a hotel manager who can actively communicate in English."