Sapporo Belle époque College of Beauty Student Takes Third Place in the National Junior Natural Sculpting Category at the 2016 Tokyo Nail Expo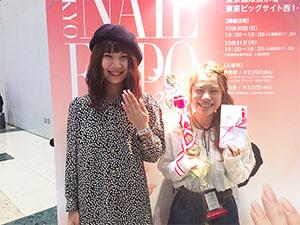 The 2016 Tokyo Nail Expo, the world's top manicure and nail art event, was held on October 30-31 at Tokyo Big Sight. Organized by the Japan Nailist Association, the Tokyo Nail Expo is an all-encompassing event for everything connected with nails. The event attracts more than 50,000 people each year, including top nail artists from around the world, and also features a number of different competitions.
Ms. Kako Sasagawa, a second-year Total Beauty Department Nail Course student from Sapporo Belle époque College of Beauty, took third prize in the Junior Natural Sculpting Category, one of the numerous categories open to the young people who will lead the next generation. Ms. Sasagawa achieved top results as a professional training college student in a category open to professional training college students and school students.
Ms. Sasagawa watched from behind the scenes as senior students competed in last year's competition and spent the last year working toward taking part in this year's national competition. The faculty members at the school are very proud of the excellent outcomes which she achieved in the national competition as a result of her efforts.
Students actively take part in contests and competitions and accomplish wonderful results as part of their studies at Sapporo Belle époque College of Beauty in addition to acquiring professional qualifications, which helps them build confidence. Ms. Sasagawa will certainly be active as a nail artist in the industry in the future, and the experience she gained in this competition will enable her to achieve even greater success.