Osaka ECO Animal and Ocean College Graduate and Associate Director for Actland Yao Keito Miyajima Featured in Sankei Shimbun Newspaper Article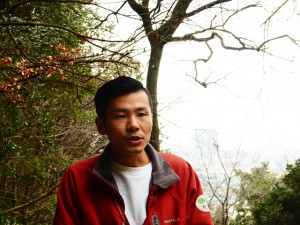 Keito Miyajima, associate director for Actland Yao at the Yao Municipal Ohatayama Youth Outdoor Activity Center, where students from Osaka ECO Animal and Ocean College conduct field work, was featured in the Sankei Shimbun newspaper series Professional Job. Miyajima graduated from Osaka Communication Arts ECO (currently Osaka ECO Animal and Ocean College) in 2003, majoring in wild animal conservation. He is currently active in the field of environmental education, giving children an opportunity to experience nature first hand, and leads recreational activities in the wilderness at the outskirts of the city.
After working with a company operating a nature school and a mobile zoo, Miyajima became active with the Nature Adventure Club (NAC), a non-profit organization whose goal is to help children develop the desire to take on the unknown and cultivate growth through projects promoting first-hand nature experience. He started at Neyagawa Outdoor Activity Center operated by NAC and then transferred to his current position at Ohatayama Youth Outdoor Activity Center ten years ago.
As soon as he began working at the center, he introduced the Mori Yochien pre-school education (Forest Kindergarten) which focused on wilderness education. He taught students about teamwork and the importance of life through outdoor activities such as pizza making and nagashi somen (chilled somen noodles plucked from water flowing down a split bamboo pipe). Later, he worked on Mori no Gakko (Forest School) aimed at elementary school students.
The growing numbers of abandoned bamboo groves have become a nation-wide problem. Miyajima has maintained a bamboo grove inside the facility for ten years together with students from his alma mater Osaka ECO Animal and Ocean College, in addition to their studies of undeveloped woodland preservation. Bamboo cut from the grove was used to build a playground with slides and a jungle gym that instilled a sense of adventure in children.
Miyajima said, "If the only thing that children hear from adults is that they can't catch insects or that they can't pick flowers, then their sense of nature conservation will be completely wrong. It's important that we communicate to children that some mountains and forests require care." He recently enrolled in the NPO and Local Government Research Course in the Graduate School of Policy Research at Ryukoku University and completed the master's program. He is still very passionate about learning.