Osaka College of High Technology Holds Experiment Skills Competition for High School Students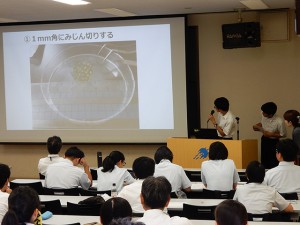 Osaka College of High Technology created the first Experiment Skills Competition to help improve the research topics and content in high school clubs such as biology and other science-related clubs. The interim reporting session was held at Osaka College of High Technology on August 7. About fifty students and educational advisors from nine public and private high schools in Osaka, Kyoto, and Hyogo Prefectures participated in the event, giving presentations on the progress of their research and engaging in a lively exchange of ideas with other students.
The Osaka College of High Technology took up the initiative this past spring at the request of high schools as part of the partnership between the schools and professional training colleges. The high schools wanted support for students engaged in research in biology and other science-related clubs, and Osaka College of High Technology created an opportunity for high school students to give presentations on their research. The topics for the event were decided in May, with students undertaking the research between June and November. The students will give presentations on the results of their research in December, and the best research will be awarded a prize.
At the interim reporting session, students from nine schools gave presentations on ten subjects, such as "Can cockroaches be transparent?" and "The relationship between growing penicillium and sound." The students and teachers from other schools eagerly asked questions about each interim research presentation. The student presenters gave serious, thoughtful answers to these questions, in an exchange that was repeated over and over again.
The reporting session was quite fruitful, producing surprising and challenging research. In addition to investigations into the possibility of making cockroaches transparent and the relationship between growing penicillin and sound, the reports on conducting an environmental analysis of the local Yodo River and demonstrating color changes of titanium attracted particular attention.
The main event for the Experiment Skills Competition will be held at Osaka College of High Technology on December 16. Osaka College of High Technology will continue to answer questions from high school students and give advice while providing support for experiments and research.