Kobe College of Medical Welfare Signs Comprehensive Partnership Agreement with Sanda City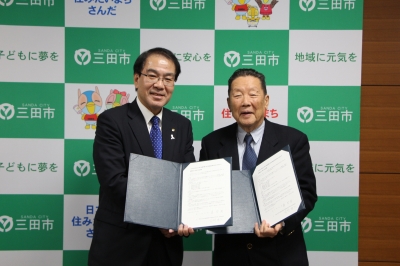 Kobe College of Medical Welfare, Sanda Campus, signed a comprehensive partnership agreement with the city of Sanda in Hyogo Prefecture on November 30. The agreement covers a range of topics including social welfare and community disaster prevention. The school principals from Kobe College of Medical Welfare, Kwansei Gakuin University, Minatogawa College, Hyogo University of Teacher Education, Kobe Shinwa Women's University, and Kobe Tokiwa University met together with Sanda City Mayor Tetsuo Mori and issued a joint declaration of cooperation to transform Sanda City into a "City of Learning."
Kobe College of Medical Welfare first opened in 1997 and currently has approximately 750 students pursuing studies in six departments including the Physical Therapist Department, the Prosthetist and Orthotist Department, the Orthopedic Footwear Department, the Emergency Medical Technician Department, the Speech-Language-Hearing Therapist Department, and the Occupational Therapist Department.
Under the comprehensive partnership agreement with Sanda City, the school will provide support for managing evacuation centers during natural disasters, dispatch functional training leaders, and dispatch physical therapists, occupational therapists, and speech-language-hearing therapist to provide assistance in special needs programs.
At the signing ceremony held at the Sanda City Hall, Mayor Tetsuo Mori asked for the school's assistance saying, "Since Kobe College of Medical Welfare trains professionals in the field of health care, I want to ask you to lend us the strength of youth for the sake of the city of Sanda." In response, Seishi Sawamura, principal of the school, said, "Our students are studying day after day to help people. Our students will make the best use of their skills and knowledge to provide assistance. This agreement will enable us to increase even more our contributions to the community.