Jikei Group Holds Signing Ceremony with Berklee College of Music Extending Ukifune Scholarship to 2022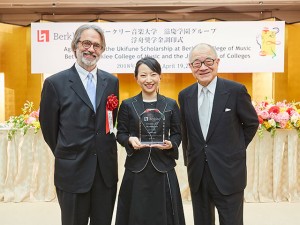 Berklee College of Music and the Jikei Group of Colleges renewed their agreement for the jointly created Ukifune Scholarship at a signing ceremony at the Osaka Jo Hall Convention Hall on April 19, extending the scholarship until 2022. Berklee College of Music is a prestigious school of American modern music such as jazz and rock located in Boston, Massachusetts. In attendance at the ceremony were Jikei Group of Colleges chairperson, Kunihiko Ukifune, and Berklee College of Music associate vice president of Global Initiatives, Matthew Nicholl. This year's recipient of the Ukifune Scholarship is Ms. Hidemi Akaiwa, who just graduated from School of Music & Dance in Nada Ward in Kobe City in the spring. A ceremony awarding Ms. Akaiwa the scholarship was held along with the signing ceremony.
Established in 2016, the Ukifune Scholarship is an educational program for students who transfer to Berklee College of Music and graduate in at least two years. Ms. Akaiwa is the third recipient of the scholarship and her tuition will be fully funded for two years of study.
"Music is a part of my soul. Age is irrelevant when pursuing your dreams." (Ms. Hidemi Akaiwa)
Ms. Akaiwa was recognized as the 2018 Ukifune Scholarship recipient by Mr. Matthew Nicholl from Berklee College of Music, who presented her with a commemorative plaque. Mr. Nicholl is the Associate Vice President of Global Initiatives at Berklee and traveled to Japan to attend the Jikei COM Group entrance ceremony for eleven schools.
Ms. Akaiwa began studying the piano at the age of three and has won many student competitions, but she studied at a regular university rather than a music university. She worked at a securities company after she graduated and boosted earning to become a top salesperson. However she never gave up playing the piano and the music she loved. She left her job at the securities company and returned to the world of music, enrolling in Koyo School of Music & Dance. She majored in jazz piano in the Study Abroad Department.
In her speech, Ms. Akaiwa said, "I was empty working at the securities company. I no longer knew why I was here, what I was living for. I finally recognized that music is a part of my soul and returned to playing the piano after a long break. Attending Berklee College of Music was the next challenge I took on. I want to show that age doesn't matter when you pursue your dreams and give courage to others."
Three Projects for Strengthening the Educational Partnership with Berklee
After Ms. Akaiwa finished her speech, Chairperson Ukifune and Mr. Nicholl signed an agreement extending the Ukifune Scholarship until the year 2022.
In his address, Chairperson Ukifune said, "Educational exchange between the Jikei Group and Berklee College of Music began in earnest back in 2015, when Koyo School of Music and Dance became a Jikei Group of Colleges' school. Koyo School of Music and Dance had started a Berklee transfer program and sent many students to study there. Berklee expressed its desire for us to consider educational partnerships with other schools in the Jikei Group of Colleges in addition to Koyo. Berklee is a top runner in modern music education, and I wanted to make the most of our partnership agreement with them. I got together with other concerned parties in the Jikei Group to think about other projects." The Jikei Group embarked on three projects to strengthen the educational relationship with Berklee, one of which was the creation of the Ukifune Scholarship. Every year Berklee selects one student with exceptional grades from the Study Abroad Department at Koyo School of Music & Dance to be awarded the scholarship.
TSM Students Eligible for Scholarship from 2020
The second project was establishing educational partnerships between Berklee College of Music and other Jikei Group music school in addition to Koyo School of Music & Dance. Both Tokyo School of Music and Dance and Tokyo School of Music Shibuya have opened Study Abroad Departments as educational partner schools with Berklee.
Under the program, students study for two years in Tokyo and then study for another two years at Berklee. Beginning in 2020, students from TSM will be able to transfer to Berklee as well.
And finally the third project was a proposal that came from Berklee. They wanted to know if we could create opportunities for Berklee graduates to work in the Jikei Group of Colleges and if we could share information regarding job openings for students with Berklee students. Berklee graduates would need to surmount enormous obstacles including language and visa-related issues in order to work in Japan. Even so, the Jikei Group has endeavored to respond to Berklee's request. At the ceremony, the group introduced a Berklee graduate currently working in Japan as a faculty member at TSM.
"Graduate young people who can make peace and happiness a reality." (Chairperson Ukifune)
In closing, Chairperson Ukifune said, "Students pursuing studies in the field of music need to have the will to absorb new technological skills and take on challenges in new markets through collaborations with professionals in other fields in addition to developing skills and sensitivities as performers and composers. The Jikei Group of Colleges and Berklee College of Music must continue to refine and improve the education we deliver through educational exchange in order for students to be able to create value for themselves. I hope that we can continue to work together in the future and graduates as many young people as possible who can make peace and happiness a reality."