Jikei Group holds 13th International Affairs Meeting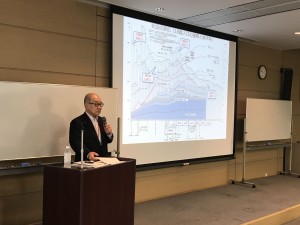 The Jikei Group of Colleges International Center, Headquarters hosted the 13th Jikei Group of Colleges International Affairs meeting on July 28 and 29 at the Biwako Club, the group's training facility and retreat located in Shiga Prefecture. More than seventy people from international affairs-related departments in the Jikei Group and partner organizations participated in the meeting, including representatives from the international offices in the United States, Europe, Australia, China, and Korea. The first day of the meeting was chaired by Hideo Watanabe, Executive Director of International Center, Headquarters.
This year's meeting featured presentations on international education programs as well as discussions on a number of topics including English language education, Japanese language education, and international recognition of professional education. A Crisis Response Simulation in which students are involved in a terrorist attack, natural disaster, accident, or some other incident frequently seen around the world was also staged at the meeting. The participants discussed how to respond to a crisis event and how to ensure the safety of students taking part in overseas study abroad tours.
A Moment of Silence for Dr. Warrick L. Carter, International Education Advisor
The participants assembled for the International Affairs Meeting observed a moment of silence for Dr. Warrick L. Carter, who passed away on July 15. Dr. Carter had served as the International Education Advisor for the Jikei Group of Colleges and was also Honorary Principal of the Collective School of Music in New York City.
Dr. Carter had a long and distinguished career. He served at Berklee College of Music, first as Dean of Faculty and then as Provost/Vice President of Academic Affairs. (Berklee College of Music is an educational partner with the Jikei Group.) He was later appointed President of Columbia College Chicago, one of the leading colleges of music and the arts in the United States, finally retiring in 2013.
Dr. Carter acted as the International Educational Advisor for the Jikei Group of Colleges for nearly twenty years. He attended entrance ceremonies for Jikei Group schools just this past spring, looking healthy and full of life. He will be greatly missed by everyone in the Jikei Group of Colleges.
Opening Address from Chairperson Ukifune: "Reevaluating Professional Education in Japan from International Recognition Perspective"
The opening address was given by Jikei Group of Colleges Chairperson Kunihiko Ukifune. Chairperson Ukifune looked back on the history of the Jikei Group, a group whose founding principles place Practical Education, Humanistic Education, and International Education as its primary pillars of education, against the backdrop of an ever-changing society and then said, "Japanese professional education now faces the question of whether it will be recognized by other countries around the world. Creating a framework that will address how to guarantee mutual recognition of expertise across borders will become a major issue."
As a professional training college organization, the Jikei Group of Colleges is engaged in training professionals who are ready to work at home or abroad as soon as they graduate. Chairperson Ukifune pressed the need to reexamine once more the numerous international education programs the group currently operates in light of an ever-changing society as well as whether the group's professional education programs would be recognized internationally.
Kobe College of Medical Health Renews Category 1 Certification; Kobe City to Host ISPO World Congress
The Prosthetics and Orthotics Program at the Kobe College of Medical Welfare Sanda Campus is the only program in Japan certified as a Category 1 program by the International Society for Prosthetics and Orthotics (ISPO). Category 1 is the highest level of certification from the ISPO. The program was recertified as a Category 1 program for a period of five years.
Jikei West Group also announced that the ISPO World Congress will be held in Kobe from October 7-10, 2019, the year before the Paralympics. The last time an ISPO World Congress was held in the city of Kobe was in 1989, thirty years ago. The event will be hosted with the support of the Japanese Government, Hyogo Prefecture, and the city of Kobe.
The International Congress will bring together approximately 5000 prosthetics and orthotics developers, researchers, and educators from around the world and will help generate excitement for the Paralympics.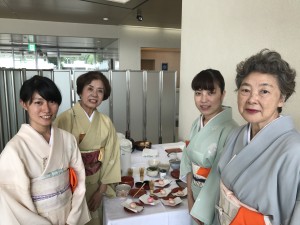 Jikei Group Graduates Working as Professionals around the World
Different presenters spoke about the growing number of graduates using their expertise to work overseas. The presenters introduced many different graduates currently active outside Japan, including graduates from the Brewing and Fermentation Course at Tokyo College of Biotechnology working at a winery in the Alsace Region of France, a graduate from Hokkaido College of Medical Sports opening an orthopedic clinic in Vietnam's Ho Chi Minh City, graduates from Belle epoque College of Beauty working around the world in countries such as the United States, England, and Italy, and graduates who studied as international students at Tokyo Belle epoque College of Beauty's Beautician Department, Tokyo Belle epoque College of Confectionery and Culinary's Patissier Department, and Shin Tokyo Dental Technician College.
The attendees also heard about graduates from cultural and arts-related disciplines, including a graduate from Tokyo School of Music and Dance working at Cirque du Soleil in Los Angeles, a graduate from Fukuoka School of Music and Dance who was picked up by a talent agency in Los Angeles and appeared in a music video for a worldwide hit single, a graduate from Osaka Communication Arts College working as a 3D animator in London, and a graduate from Osaka School of Culinary Arts responsible for the primo (first) course of meals at a restaurant in Italy.
Presentations from Overseas Centers
Representatives from Jikei Shanghai Center, Jikei Australia Center, Jikei Europe Center, Jikei American Center in Los Angeles, and Jikei American Center at the University of West Florida as well as International Center, Headquarters gave presentations during the second part of the meeting on topics such as outbound programs to overseas partner institutions and future issues.
Although terrorist attacks are a relatively frequent occurrence in Europe compared with Japan, the representative from Jikei Europe Center reported that while the study abroad programs in food-related fields to Italy such as ICIF as well as health care and social welfare-related programs in Northern Europe went ahead as planned, terror alerts in Paris and London meant that programs in these cities were diverted to the United States. The difficulty in conducting study abroad programs in unstable areas has certainly come to the forefront.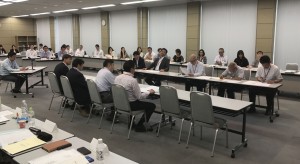 Crisis Simulation and Discussion on Safe and Secure Study Abroad Programs
During the third part of the meeting, participants discussed how to respond to crisis situations during international exchange activities. The session featured a simulated crisis situation where three students taking part in an overseas study abroad program in Frankfurt, Germany are involved in a traffic accident.
During the simulation, various roles and responsibilities were decided such as communicating and giving instructions to people in-country such as chaperones and tour conductors as well as communicating with the students' families and liaising with Ministry of Foreign Affairs and diplomatic missions. Participants included Jikei Group faculty and staff members and representatives from the travel agency with which the Jikei Group primarily does business while Chairperson Ukifune acted as the Crises Center Manager. The simulation participants put themselves in the position of the students and discussed how to respond to the crisis and make quick, accurate decisions as a group and learned much from the session.
Representatives from International Center, Headquarters went over and explained in detail the Crisis Management Manual for International Exchange Activities while representatives from the travel agency discussed Do's and Don't's for traveling in foreign countries.