Jikei Graduate Continues the Challenge in Boston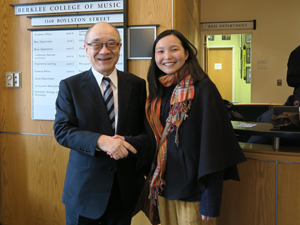 Which colleges come to mind when you think of famous music schools in the United States?
Probably Juilliard School in New York and Berklee College of Music in Boston. Several of our instructors at the Jikei Group are graduates of Berklee College of Music. Vice Principal Shin Ikesue, Director of the Gospel Ensemble, is a graduate, as is Mickie Yoshino.
Jikei Group Chairperson Kunihiko Ukifune visited Berklee President Roger H. Brown toward the end of April as part of a seven member delegation. The purpose of the delegation's visit was to establish an educational exchange relationship with Berklee College of Music. The group was given the opportunity to tour the Berklee campus prior to the meeting with the Berklee president.
We were shown around the campus by OSM graduate Utako Toyama. The moment she appeared in front of us she exclaimed, "Kita Sensei!" OSM Director Seiichiro Kita had joined us for our visit to Boston, and when Ms. Toyama suddenly called out his name, he remarked in surprise, "Imagine that! Meeting up with a graduate from your own school at Berklee!" It was a moment of joy that only someone involved in education could experience.
You can say that the greatest joy for us is catching up on what our graduates have been doing. It was purely by chance that we happened to run into this graduate in Boston. And we have the good people at Berklee College of Music to thank for asking Ms. Toyama to act our guide for the campus tour.
Let me talk a little bit about Utako Toyama. She was at first undecided about the path she should take after graduating from high school. She was divided between enrolling at OSM and studying music or enrolling in a foreign language college. In the end, she enrolled in OSM and studied gospel music and composition in order to stay true to her goal of "studying music and pursuing a career as a performing artist in the future."
She heard about Berklee College of Music from her instructors while she was at OSM and investigated the possibility of going to the United States as an international student. Berklee College of Music has a partner institution in Kobe, Japan–Koyo Conservatory of Music. And once a year faculty from Berklee travel to partner institutions around the world to hold entrance auditions and interviews to recruit talented students. In Japan, Berklee uses the Koyo Conservatory of Music campus to hold auditions and interviews.
Ms. Toyama tried out at one such audition and did exceptionally well. Moreover, she decided to enroll as an international student at Berklee with the condition that she could receive a scholarship as well. She had made it past the first hurdle.
 
At Berklee, Ms. Toyama majored in Contemporary Writing and Production and studied composing and arranging.
The weather in Boston is incomparably colder than Osaka, in particular the winter.
Life as an international student was quite difficult at first. The cold gave her bronchitis and she had problems with the language. Ms. Toyama had also considered enrolling in a foreign language college after graduating from high school and so had a certain degree of confidence speaking English. Even so, she soon realized that she did not know music-related English terminology. She didn't know how to say 'treble clef' or 'first ending' in English. She could read music but she could not talk about it, which caused her great frustration.
But all she could do was study. She had no choice but to try to keep up with her classes. This was the start of Ms. Toyama's visit-the-faculty-office strategy. For the time being, she would visit instructors in the faculty office and ask them questions about the things she didn't understand.
"If I didn't ask questions, I would forever feel ashamed of myself. Why did I come to Boston? I came here to absorb everything I learned at Berklee. If I couldn't, I wouldn't be able to grow."
In response to Ms. Toyama's feelings, the instructors provided instruction with enthusiasm, not only for her but for all of the students. They did not become instructors because they were unable to become professional musicians. They absolutely love music, and they communicate how amazing music is to students. They give them the knowledge and skills they need to become professional performers and help them prepare to seize their chance and develop the right mental attitude.
The individual backgrounds of all her classmates were different. They differed in many ways, and not just in their nationalities. For example, some students were excellent performers but couldn't read sheet music, or some students were much older than the other students. But all of them possess the potential to receive a Grammy Award a few years down the road. This has been proved by Berklee graduates. This is why the network of friends and teachers you meet at university is important. They can possibly give you an opportunity sometime down the road. If you take on the challenge of this work, your network will help you in ways such as giving you a productive push or asking you to work together with them. This is because all of your good friends and instructors believe in this potential.
English skills to communicate properly are essential. Being trustworthy as a person is also important. This is probably the same for any country. But because the United States is country where people have come from many different nations and because of this communication and trust are very important
Ms. Toyama didn't have any Japanese friends in Boston until the Great East Japan Earthquake on March 11, 2011. She was fully enjoying her campus life with her friends from the United States and other countries, whom she had met at her dorm or in her classes. However she developed a bond with Japanese students at Berklee following the Great East Japan Earthquake. Her network grew larger and larger. We noticed that immediately from the number of Berklee students and faculty who said hello to her when she showed us around the Berklee campus.
The curriculum at Berklee College of Music is different from that at OSM. However, Ms. Toyama took a test to confirm what she had studied at OSM. The results of the tests showed that she had mastered the skills and knowledge she had acquired in her classes at OSM. Official transcripts from OSM are not enough. The tests provided solid results, and she did not have to take the classes which duplicated the classes she took at OSM. This approach thoroughly evaluates people who have worked hard and recognizes those results. There is no prejudice. Despite being something so obvious, the United States is great for doing this so thoroughly.
Ms. Toyama is currently active as the leader of SkyBridge, a band made up of members from different countries. The band's slogan is wonderful. "We look different, (but) we ALL smile the same," Ms. Toyama said, talking about the philosophy behind the group. "'SkyBridge' refers to a rainbow. There are no borders in the sky. We want to overcome differences in culture, gender, and race and create music that connects everyone across a bridge which is colorful like a rainbow." The music of SkyBridge is filled with these sentiments.
You can meet Ms. Toyama through her activities with SkyBridge at http://www.skybridgemusic.org. One of the band's signature songs is "No Rain No Rainbow," which Ms. Toyama wrote while she was at OSM.
Her motto is "Success is continuing to make new mistakes." Not the same mistakes. But new mistakes from taking on new challenges.
And this article will conclude with a message from Ms. Toyama for the students currently studying in the Jikei Group. "Jump into someplace where you don't feel comfortable and make it into a place where you do feel comfortable." Ms. Toyama's message to the current students at the Jikei Group comes straight from the heart and is her belief based on the personal experiences she cultivated in the United States.