Fukuoka Hospitality & Bridal College Students Stage Bridal Show at 2016 Hawaiian Festival in Fukuoka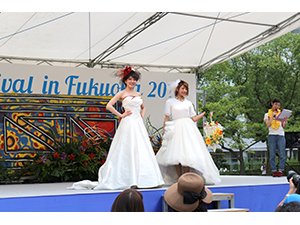 The 2016 Hawaiian Festival in Fukuoka was held over the three days from Friday, July 22 to Sunday, July 24 in Tenjin Central Park to celebrate the 35th anniversary of the sister relationship between the State of Hawai'i and Fukuoka Prefecture.
The three-day celebration featured Hawaiian booths and stalls and performances by hula dances and Hawaiian musical groups on the center stage, as well as a Hawaiian wedding-themed bridal show put on by second-year students from the Comprehensive Bridal Department.
When the school was putting together the plan for the show, Fukuoka Prefecture, the host for this year's event, and the Hawaiian Mana'o Executive Committee asked the school to stage a show which would highlight the bond between Hawaii and Fukuoka. The students worked on preparations for the show for approximately three months, drawing upon the skills and knowledge acquired in their daily lessons and on the study abroad tour to Hawaii held in January of this year. It was decided that the theme for the project would be "ohana," which means "family" in the Hawaiian language, and the goal would be to generate interest in wedding ceremonies by conveying the appeal of Hawaiian weddings to as broad an audience as possible.
For the dress fashion show, the Fukuoka Hospitality & Bridal College enlisted the aid of the students from the Acting and Modeling Course at sister school Fukuoka School of Music & Dance and showcased casual mini dresses appropriate for the resort areas of Hawaii and other dresses fusing Japanese and Western tastes. The stage was gorgeously decorated using the ideas and coordinating skills unique to students. The bouquets, music, and performances were exquisite and were well received by the spectators.
The students also received help from regular families who hadn't had the chance to have a wedding ceremony and planned a surprise wedding proposal and ceremony.
Couples exchanged leis instead of rings during the wedding ceremony, which is a very important custom in Hawaii. The ceremony was a heartwarming affair from beginning to end, with children joining their parents as part of the performance. The large number of people who came to see the event also lent a hand, releasing balloons into the summer sky and wishing the couple and family happiness.
By taking part in this event, which coordinated the efforts of industry, government, and academia, the students were able to convey the theme of the assignment they were given while mastering the planning and execution skills the industry will be looking for in the future as they learned the difficulty of communication.