Fukuoka ECO Animal and Ocean College Holds Animal School for Kids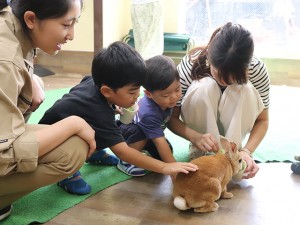 Fukuoka ECO Animal and Ocean College held its Animal School for Kids on August 5, where children can interact with animals. Animal School for Kids is an event where nursery school, kindergarten, and elementary school students living in the surrounding neighborhood can have fun and learn about the wonder of living things and the preciousness of life while interacting with animals.
The event originally started as an idea to help children better understand the attraction of animals and to like them more by creating more opportunities where children and animals can interact. The students at Fukuoka ECO thought about what they could do to make the younger children happy when they took part in the event and made the necessary arrangements.
The children first took part in a fun and exciting quiz based on Zannen na Ikimono (Unfortunate Animals), a popular series of children's books in Japan. Afterwards the group moved to the animal keeper practical training room at Fukuoka ECO to meet each of the animals that actually appeared in the episodes from the quiz. The children got to feed and interact with many animals, including guinea pigs, rabbits, kangaroos, and capybaras.
Children these days normally have few chances to interact with animals. This program presents a wonderful opportunity for these children to experience the warmth and charm of animals first hand. Fukuoka ECO plans to run the Animal School for Kids regularly in the future as well for the benefit of the children and other residents of the community.