Final Judging for the 7th Annual Jikei Group of Colleges English Speech Contest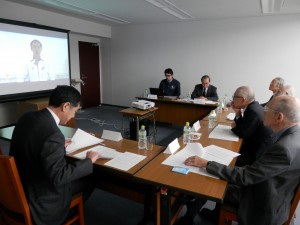 The final judging for the 7th Annual Jikei Group of Colleges Speech Contest took place on November 10 in Osaka. The theme of this year's contest is "the Japan I Love." The expert panel of judges selected the five recipients for the Overseas Language Study Program Scholarship from the representatives from the 46 Jikei Schools participating in the contest. The top five competitors who made it through the strict selection process will be awarded a scholarship for a five-week overseas language study program in either Brisbane, Australia or Pensacola, Florida in the United States.
The judges spoke about the competition saying, "The student speeches this year included opinions which were both very interesting and relatable. Each year the English speech contest feels more and more like a Jikei Group contest. Those students who could come up with the content for their speech themselves and then express that in their own words in English were the winners."
Two students—a winner and a runner-up—will give their speeches at the New Year's ceremony to be held on Thursday, January 5, 2017. An award ceremony will be held for all the winners listed below:
Five Winners of the Five-Week Overseas Language Study Program Scholarship
1. Winner: Daisuke Koga

Orthotist and Prosthetist Department

Kobe College of Medical Welfare, Sanda Campus

2. Runner Up: Yu Pei Hsuan

Voice Actor & Actor Course

Dance and Acting Department

Tokyo School of Dance and Acting

3. Winner: Lee Suji

Composer and Arranger Debut Course

Music Technology Department

Tokyo School of Music Shibuya

4. Winner: Miki Agarisuji

Dental Technologist Group II

Shin-Tokyo Dental Technician School

5. Winner: Sota Taniguchi

Chef Course

Chef Department

Fukuoka College of Culinary Arts
7th Annual Jikei Group of Colleges English Speech Contest Overview
Eligible Students: All non-native English speaking Jikei Group students
Number of Participating Schools: 46
Speech Theme: The Japan I Love
First Round: Each participating school selects one student to represent it.
Second Round: International Language Center and the Jikei English Language Education Department selects 13 students to continue to the final round.
Final Round: The Jikei Group English Speech Contest Final Selection Committee selects the winner and runners up for the contest.