The Jikei Group organizes training programs in Japan for overseas partner school faculty members which cover Japan's educational system, school management, and education.
| Country | Number of participating institutions | Total number of participating faculty members |
| --- | --- | --- |
| Korea | 7 institutions | 87 |
| Finland | 8 institutions | 13 |
| China | 1 institutions | 2 |
| France | 1 institutions | 2 |
| UK | 1 institutions | 1 |
Example: School management training for faculty members of Chinese and Korean universities and vocational schools taught by Jikei Group faculty members
The professional education the Jikei Group aspires to achieve along with the position of specialized training colleges in Japan
Career education developed by the Jikei Group
Cooperative education with industry developed by the Jikei Group
Jikei Education Science Committee Academic Conference, educational committees, educational committee activities
Activities of student counseling centers supporting students' education
Computer education
Japanese language education for international students

Students from overseas schools are able to interact with Jikei instructors and students through cultural and academic exchange-related events. As a result, some students wish to transfer to our schools midyear as international students the following year.
| Country | Number of participating institutions | Total number of participating faculty members |
| --- | --- | --- |
| United States | 4 institutions | 71 |
| Korea | 8 institutions | 211 |
| France | 1 institutions | 58 |
| China | 1 institutions | 51 |
While experiencing an Asian boom in their home countries, students from France receive training which includes oriental medical practices such as Shiatsu and Seitai massage.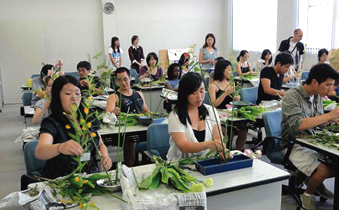 Participating School: Ecole Elegance Gontard International Receiving institution: Tokyo College of Medical Sports Length: 3 days
Program content :
Eastern medicine lectures (Eastern medicine theory, shiatsu, moxibustion, acupuncture)
Japanese cultural exchange with Jikei students (Japanese lessons, communication lessons and party with Jikei students)
Training orientation
Completion ceremony1
University of West Florida (UWF)
Semester in Japan (6 weeks)
The Semester in Japan Program brings 5 students selected by the University of West Florida to Japan to take a regular UWF course with a UWF professor in a specialized subject while studying Japanese and Japanese culture on Jikei Group campuses. During their stay, students from the UWF visit companies and learn traditional Japanese arts such as chado (tea ceremony) and ikebana (flower arranging).
University of California (UC)
Summer Session in Tokyo (4 weeks)
Under the program, 30-50 undergraduate students and professors from the University of California come to Japan and pursue a range of studies on Jikei Group campuses including history of anime and manga, jazz, and recording techniques. University of California professors also hold special lectures for Jikei Group students while Jikei Group instructors hold special lectures for University of California students.