Jikei Education Science Center was established in April of 1994 with the goal of developing a new kind of professional education system, one which will meet the needs of future generations of students and continuously build on the quality of our faculty and staff.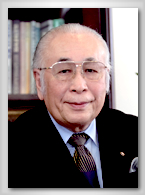 Masaomi Kondo, Ph.D.

President, Jikei Education Science Center
Professor Emeritus, Osaka University
From the President :
The mission of professional training college education is the cultivation of highly sought-after professionals ready to respond to changes and advancements in the very fabric of society and industry. This mission also includes helping students become better members of society and putting into practice a system of lifelong education which will help contribute to meaningful education for all citizens.
Each of the professionals we educate develops creativity and self-confidence as well as a sense of humanity and an international outlook. Together they form an intellectual body working together to realize their potential and construct a rich, intellectual society. To this end, professional training colleges need to advance and transform themselves in a way which best suits the times.
The Jikei Group of Colleges recognizes the necessity of improving the quality of faculty and instructors. All of the faculty and staff at the Jikei Group are devoted to continuing their education through professional training and academic conferences sponsored mainly by JESC. We are working very hard to develop our unique professional training college education in line with the needs of industry while accumulating professional training college education know-how.
Our Work
Constructing Education Systems and Building Education Know-How
Gathering, Administrating, and Managing Education-related Information
Development and Instruction for Teaching Methods and Techniques
Considering Curriculums at Jikei Group Professional Training Colleges (Instructor Administration)
Development and Instruction for Lifelong Education Programs
Developing and Publishing Teaching Materials
International Education System Development
Publishing the JESC Newsletter
Developing Multimedia Education Systems
Compilations for Events, Graduation, and other Productions
Inter-School Curriculum Compatibility and Adaptation
Organizing the Jikei Education and Science Academic Conference
Professional Training Activities
Aiming for Qualitative Progress for New Faculty and Instructors
New Employee Training
Instructor Training Seminar
Follow-up Training
Career Center Training
Faculty Counseling Training
Management Training
Next Generation Training
"The Seven Habits of Highly Successful People" Training
OJT Instructor Training
Teaching Department Specialist Training
Teaching Department Management Training
Committee Activities
Counseling Committee
Career Education Committee
Teaching Materials Research Committee
Education Subcommittee
Transcending Individual School Boundaries, Coordinating with Each Specialist Field of Study, and Aiming for Even Better Education
Bio Science Education Subcommittee
Health Care Education Subcommittee
Social Welfare Education Subcommittee
Sports Science Education Subcommittee
Biosphere Education Subcommittee
Beauty Care Education Subcommittee
Communication Education Subcommittee
Performing Arts Education Subcommittee
Food Culture Education Subcommittee
Lifelong Education Subcommittee
National Examination Preparation Center
JESC develops educational methodologies, provides national examination-related information, and helps students develop test preparation skills to assist each department in fields such as medical care, social welfare, and health care in the Jikei Group achieve a 100% success rate on national examinations.